Regardless of who you voted for in the past election, regardless of whether you celebrated or protested during last Friday's inauguration of President Donald Trump, 2017 is about seizing precious opportunity.
Leaders discover opportunity in places others overlook. Leaders recognize "the moment" when everything changes for a family, a neighborhood or a nation. They also recognize that opportunity may spring from familiar or unexpected times and places. Obscurity or prominence. Prosperity or lack. Ease or difficulty.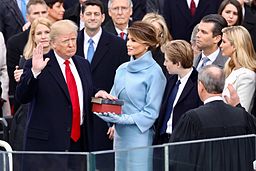 In other words, genuine, grassroots leadership can emerge during any administration, in any community, and at any time. Throughout human history, swiftly changing times have incubated leaders (and movements) that have transformed the world. Like seeds germinating beneath the soil, leaders and their contributions may not be seen right away. But they're there.
And there's plenty for leaders to do. A Pew Research Center report released on Tuesday showed that economic concerns – although with a lower share than in 2009 and 2013 – are topped only by anti-terrorism as top policy goals Americans think the new president should pursue. Jobs, healthcare, the environment, race relations, and other issues made the list.
The policy list reveals plenty of opportunities for leaders – whether in D.C. or in neighborhoods from Detroit to Dallas. The needs are there – wide open gates of opportunity.
At Dallas Leadership Foundation, the objective continues to be providing a long-term change in underserved communities by developing a critical mass of local and resourced leaders to serve in neighborhoods, prisons and schools. The aim is to identify, affirm, and develop leaders to transform communities. DLF recognizes that to pivot in the right direction and serve a community, its leaders must be identified and supported.
So what are your leadership objectives for 2017? How will you seize opportunities to lead in areas you care about? If you're a Jesus follower, leadership is embedded in your spiritual DNA. It's your kingdom inheritance, the desire that never goes away. You're an ambassador for Christ, fully equipped by the Holy Spirit to tackle the assignments Heaven gives you. You can recognize the Father's assignments because ultimately, people always are at stake. He longs for relationship with people everywhere and to crown their lives with blessings that last, and they're never ignored in His plans.
So. What is He calling you to do?
Swearing-in ceremony photo of President Donald Trump on Jan. 20, 2017 courtesy of Wikipedia.
Published on January 24, 2017 @ 4:51 PM CDT