When anyone slips into thinking that "it can't be done," "it costs too much," or "they won't let us," stories about historical figures like Matthew Gaines can inspire. At Dallas Leadership Foundation, the American story about a former slave motivates us to look beyond obstacles and difficulties to what could be.
Gaines was a black man enslaved during the 19th century. He was born on Aug. 4, 1840 at Bernardo Martin Despallier's Louisiana plantation. Gaines taught himself to read after a white boy — some think it may have been Blaz Philipe II Despallier — smuggled books to him.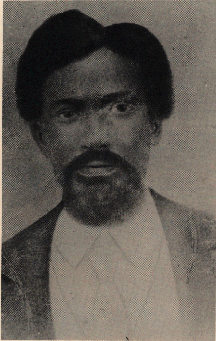 Yearning to be free, Gaines resisted slavery and fled several times before being recaptured after each escape. As a slave, he had worked as a steamboat laborer, a blacksmith and a sheepherder.
After Emancipation, he lived in Washington County where he was a minister and community leader. Gaines became a Republican state senator representing the Sixteenth District in the Twelfth and Thirteenth Texas Legislatures during Reconstruction. Gaines was one of four African Americans to serve as a state senator in the 19th century.
Voters elected Gaines to a six-year-term, but he served only four because of a bigamy charge in 1873. The Texas State Library and Archives Commission in its biography of Gaines says the charge was false and politically motivated.
"The charge was overturned on appeal, and he was reelected, but the Democratic and white majority seated his opponent," explains a biography from the Texas State Historical Association. "Gaines continued to be active in politics and made his political views known in conventions, public gatherings, and from his pulpit."
During his tenure as a legislator, Gaines worked for reforms in tenant farming and prisons, mental health, protection of African-American voters, and the election of black public officials. He was a leader in "the 12th Legislature, which established free public education in the State of Texas and enabled the founding of Texas A&M University," according to the university's The Matthew Gaines Memorial Homepage. The Texas State Library and Archives Commission biography describes Gaines as "daring, keen of mind, courageous, and firm in the equality for all men without regard to race or color."
An article by Dale Baum on the Texas A&M site observes: "Gaines proved to be the most forceful, charismatic, and militant black leader in Texas politics during Reconstruction."
Baum also writes that "Texas A&M and Prairie View A&M are today the only two tangible achievements of the bi-racial democracy which was briefly brought to power in Texas by black political activism in the late 1860s and early 1870s."
Baum offers an extensive history of the political heights Texas Republicans reached for during Reconstruction — before Texas Democrats "chose brute force and expediency over statesmanship and fair play" and dismantled those efforts.
As the nation begins commemorating African American History Month, it's a great time to reflect on the history of Gaines and Reconstruction in Texas. Consider the obstacles Gaines and others had to face in a nation healing from civil war while black people sought full privileges as U.S. citizens. How much can we accomplish today when Christians pursue a spirit of authentic, loving, pragmatic and Jesus-honoring unity?
Published on January 31, 2017 @ 5:51 PM CDT