BOOMco. DynaMag Blaster | Ages 3+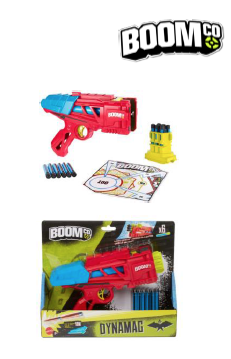 CJF20
HaveABlastTM with BOOMco.TM Now boys can blast free on the playing field with BOOMco. DynaMagTM, featuring the BOOMco.TM clip system for awesome power! A vertical feed creates dynamic playing field action, and the DynaMagTM comes with a 6-dart clip with 6 Smart Stick darts and is compatible with our 20 and 40 dart clips to expand the DynaMagTM action! See it shoot up to a thrilling 60 feet. Then reload and practice your aim with the included SmartStickTM sticky back target!
Cars 2 Character 2-Pack (Assortment) | Ages 3+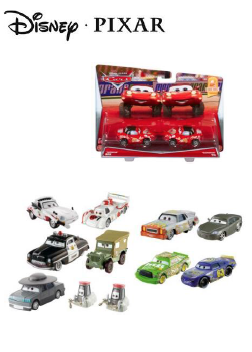 Y0506
Enchanting die-cast assortment gives kids the chance to reconnect with their favorite Cars characters. Vehicles are 1:55 scale die-cast. From grills to wheels, these little vehicles are authentically styled for realistic fun. Ages 3 and older.
12 toys per box
© Disney/Pixar
Hot Wheels® 1:64 Monster Jam® Trucks (Assortment) | Ages 3+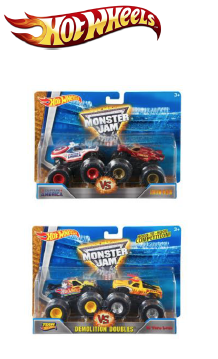 These two-packs celebrate the storied rivalries in the Monster Jam® arena and provide a head-to-head battle right out of the package with two authentic, licensed 164- scale Hot Wheels® Monster Jam® trucks! Who will dominate and who will be destroyed? Die-cast bodies and chassis team up with oversized mega monster tires featuring 4-wheel turning action. Special features may include "edge glow" roll cages, chrome-look wheels and realistic mud decos. Let the dirt fly with these ground- poundin' Monster trucks and rev up for total domination and destruction on the Monster Jam® circuit. It's unstoppable, in-your face Monster Jam® madness! Includes two Monster Jam® trucks. Not for use with some Hot Wheels® sets.
12 toys per box
Hot Wheels® Star Wars Character Car (Assortment) | Ages 3+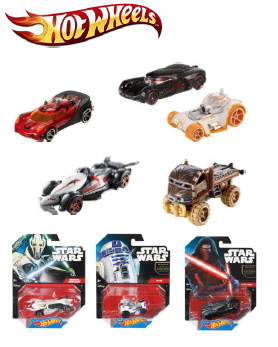 Iconic Star WarsTM characters reimagined as Hot Wheels® cars. Authentic and highly collectible. Designed in 1:64-scale with inspired-by-character features and decos. Makes a great gift for kids, collectors and Star WarsTM fans of all ages.
Hot Wheels® Star Wars Character Car Launcher (Assortment) | Ages 4+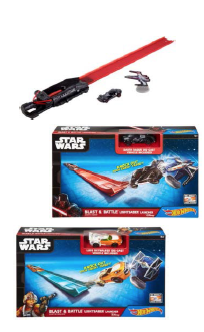 CMM32
Use the Force to Take Down Your Rival! Two of boys' favorite brands—Hot Wheels® and Star WarsTM—have joined forces! Destroy your enemy! Help Luke SkywalkerTM take down the Empire, or if you're feeling villainous, help Darth VaderTM crush the Rebellion. These stellar launchers look like lightsabers from the Light or Dark side of the Force. Each comes with one Hot Wheels® Star WarsTM character car, one piece of track, and a stand-up target of either a TIE FighterTM or X-Wing FighterTM. Insert your car into the lightsaber launcher, aim and blast your foe! Not for use with some Hot Wheels® sets. Colors and decorations may vary.
Hot Wheels® US Basic Car (Assortment) | Ages 3+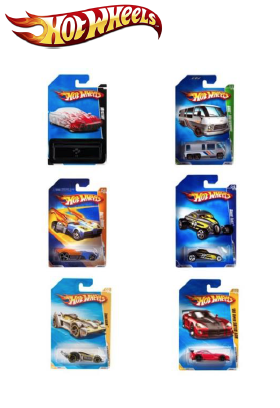 L2593
This assortment is the heart and soul of Hot Wheels® and includes some of the coolest cars we've ever produced! Hot Wheels® collectors and car enthusiasts alike look upon these amazing 1:64 scale vehicles with fondness and reverence. Young collectors love them and kids large and small just like to play with them. The Hot Wheels® basic assortment expresses both our heritage and drive to innovate. Not for use with some Hot Wheels® sets. Ages 3 and older.
Imaginext® DC Super Friends Basic (Assortment) | Ages 3+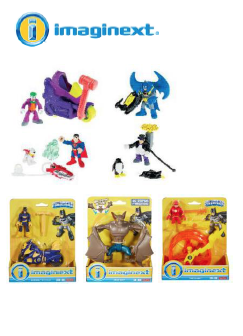 M5645
"There's no escape!" "You're going down!" Kids will use these figures to re-enact their favorite DC Super FriendsTM battles – or create new ones of their own. The more Imaginext® DC Super FriendsTM packs you collect, the more exciting crime-fighting adventures (and dialog) kids can create using their own greatest power ... imagination.
Imaginext® T-Rex | Ages 5+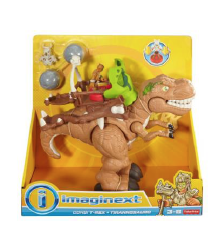 CND91
Watch as this "king" of the dinosaurs – and your child's imagination – comes roaring to life with a press of the Power Pad! Under attack from enemy tribes? Place the Warrior figure on the Power Pad and give it a push. You'll launch a boulder from the catapult on the dino's back...open the dino's mouth...and activate the T-Rex's awesome sound effects to send his enemies running for cover! Need to reload the catapult? Just place a boulder on the platform, tip it down and your little dino lover's ready for more prehistoric battles!
MATCHBOX Pop Up Rigs (Assortment) | Ages 3+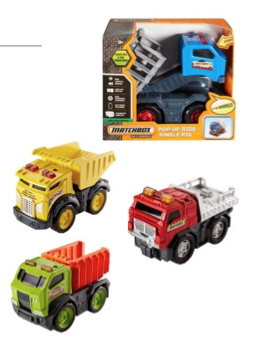 Make way! The Matchbox® Pop Up Rigs are coming through! The fun grows as soon as the trucks start moving, because they "pop" up and grow even bigger. They also sound off -- literally -- when they're rolling, making realistic honking sounds and flashing their headlights. Build upon the action by taking the authentic rugged wheels out for a spin. Collect all the Pop Up Rigs for tons of realistic excitement.
Colors and decorations may vary.
MATCHBOX® 5-Pack (Assortment) | Ages 3+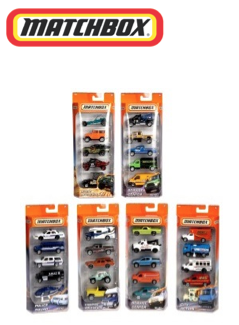 The classic Matchbox 5 Pack makes a perfect party gift! Packs feature a set of five detailed vehicles with multiple themes to play out whatever you imagine. From the bumper to the fender, each car is loaded with realistic details like rolling wheels and true-to-life decos. Kids will love coming up with their own city, rescue, construction or adventure story.
NIckelodeon Blaze and the Monster Machines Slam & Go (Assortment) | Ages 3+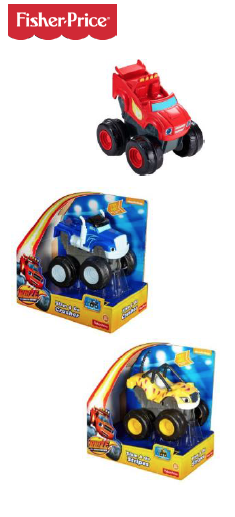 CGK22
It's Race Day, and Blaze and the Monster Machines are ready for some high-octane action! Press down on these race-ready vehicles to watch them speed off!
© 2015 Viacom International Inc. All Rights Reserved. Nickelodeon, Blaze and the Monster Machines and all related titles, logos and characters are trademarks of Viacom International Inc.
Planes: Fire & Rescue Pull & Fly Buddies (Assortment) | Ages 4+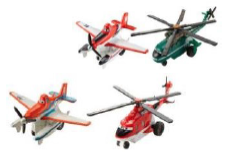 CDW03
The characters from Disney Planes: Fire and Rescue are preparing for takeoff! Choose from Pull & Fly planes Firefighting Dusty, Blade, Windlifter, and Pontoon Dusty, all of which feature their iconic details and deco from the movie. Pull back and release to send them racing towards the fires to put them out! Their actual spinning propellers take the action to new heights. Kids can re- create all their favorite moments and scenes from the movie with this and other Pull & Fly airplanes.
Planes do not really fly. Ages 4 and older. ©Disney/Pixar
WWE® Ultimate Warrior 12" Feature Figures (Assortment) | Ages 6+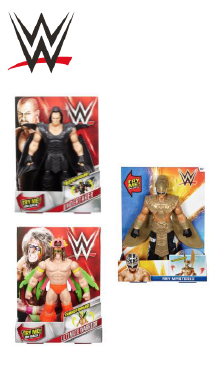 CJY55
Go big with this large-scale WWE® figure! Towering over any rival at approximately 12-inches tall, this figure is loaded with authentic details like ring-ready attire and more than 15 points of articulation. Bigger is better, and with this huge figure, you can perform signature Superstar moves and play out all the over-the-top action of WWE®. Collect them all! Each sold separately, subject to availability. Colors and decorations may vary.